A Clean & Safe Office
With state-of-the-art sterilization technology and thorough infection control procedures, we exceed all American Dental Association (ADA) and OSHA recommended standards for a clean and safe practice. We have a dedicated area where every instrument is wrapped, disinfected, and made ready before your visit. Each room is also sanitized between patients. Your safety and your comfort are top priorities for us, and we're proud to go above and beyond the standards for you.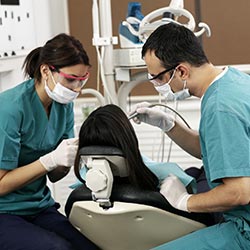 Education & Credentials
You can be confident in us as your qualified dental healthcare professionals. We are fully trained, skilled, and certified to provide you the expertise you are looking for. Our entire team fulfills their responsibility to continuing education by attending dental conventions, seminars, and lectures. We want to keep informed about new products and equipment, stay on top of advancements in treatment procedures and techniques, and continually learn how we can better serve you and your family as patients.
Information & Accommodations
We empower you to make smart choices for your oral health and smile enhancements through information and thorough consultation, easy and accommodating financing, and comfortable facilities and care. We also make sure that we are well-informed about your medical history, current medications, and any other factor that might affect your dental health and treatment. Please download our patient forms below, so we can be fully informed to serve you.

A Kid-Friendly Office
Children's habits, such as teeth brushing and finger sucking, are of primary concern to dentists, because they can seriously affect smile development. We understand that these habits must be treated with sensitivity and patience. Additionally, we are aware that some children feel uneasy and even scared about dental visits. We have a friendly and fun-loving manner that will help your child (and you) feel more at ease.
Your kids will love our fun and stress-free office.
Contact Us
TVs in Treatment Rooms
We think you'll really like the option to watch TV during your dental visit. Come in and see how you can feel more relaxed while receiving the treatment you need. You may even forget that you're at the dentist!