Routine Cleanings & Preventive Care
Including individual consultations and dental exams, cleanings, x-rays (when needed), and a focus on encouraging proper home care and overall oral health. We also provide sealants to help protect teeth against decay, fluoride treatments for healthier and stronger enamel, and athletic mouthguards and nightguards to protect your smile.
Benefits of Preventive Dentistry
In addition to being interested in the beauty of your smile, we are concerned with the health of your mouth. To help you achieve and maintain your optimal oral health, we focus on preventive care and regular dental checkups. We want to diagnose and treat problems before they grow to be big, often painful, and expensive. This not only keeps your teeth and gums looking and feeling better, but keeping up with your oral health can also significantly reduce the amount of money you'll have to spend on dental treatment later in life.
We'll help keep your smile healthy for years to come!
Contact Us
---
Periodontal Health (Gum Health)
Including diagnosis of gum disease, treatment, and appropriate maintenance using the advanced technology of PerioLase®. We also screen for early detection of oral cancer. A healthy body needs a healthy mouth!
---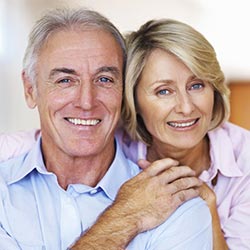 Restorative Dentistry
Including tooth-colored fillings; natural looking porcelain caps, crowns, and fixed bridges; permanent dental implant restorations; and dentures and removable partial dentures.
We'll restore your smile with expert care!
Contact Us
Tooth-Colored Fillings
Composite fillings can be adhesively held in place or "bonded." Because they can be bonded to teeth, composite fillings allow for more conservative preparations where less healthy tooth structure is removed. This often results in smaller fillings than that of amalgam (silver) fillings, and they are more natural looking. The tooth-colored material is cured with a special light and the surface is shaped and polished to match the tooth, rendering the final restoration virtually undetectable to the eye and very natural feeling in the mouth. Ask us about replacing your old fillings with natural-looking composite fillings.
Dental Implant Restorations
Many of the millions of people who are missing teeth struggle with ill-fitting, uncomfortable dentures or retainers with false teeth. If you know what this feels like and are ready for a solution, we have one for you. We can give your smile a second chance through dental implant restorations. Implants can resolve the practical and social problems associated with dentures. They are effective in stabilizing dentures to fit better, feel better, look better, and chew better. They preclude cavities in restored teeth, make it so you won't need a root canal, and can even prevent bone loss.
In addition to denture stabilizing, implants can be used in some crown and bridge applications, as well as single-tooth replacements. Call us to find out more about how this wonderful option in restorative dentistry could change your life!
Extractions
While it's normally a last course of action, there are times when your situation calls for a tooth extraction or "getting your tooth pulled". If that is the case, our team will properly anesthetize you so that you remain at ease and are not in pain while we are completing the removal. After the procedure, our team is happy to discuss the restorative options available to you.
Root Canal Therapy
Root canal therapy may be required when the pulp tissue in your tooth becomes infected, causing you intense pain. During this procedure, Dr. Kim removes the diseased tissue, cleans the inside of your tooth, fills it with supportive material, and places a cap on top to prevent future infection. We understand that many patients fear this procedure, but know that our experienced team is well-equipped to keep you comfortable and informed throughout the process.
---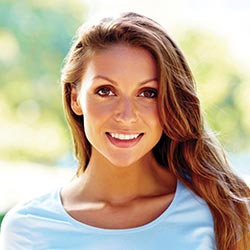 Cosmetic Dentistry
From minor tooth adjustments and smile enhancements to dramatic smile makeovers, our cosmetic dentistry services include tooth-colored fillings, porcelain caps, crowns, fixed bridges, and dazzling porcelain veneers.
---
Advanced Technologies & Systems We Utilize:
Intraoral Camera
Using this camera, we can give you a "tour" of your mouth on a TV screen (which is really cool). We also use the camera to guide you through your diagnosis and treatment options. This is helpful in keeping our patients at the center of their treatment plans. We want you to feel informed at every step of the way, so you can make smart choices for your oral health and smile.
Cone Beam 3D Imaging
A state-of-the-art technique, cone beam imaging delivers 3-D images for us to use when providing diagnosis and deciding treatment. The preciseness allowed by this technology lets us accurately plan for complex procedures like dental implants. At our practice, it's an invaluable tool for giving you the very best, comprehensive dental care.
---
Modern Dental Comforts & Conveniences to Keep Your Smile — & You — Healthy!
If you've avoided seeing a dentist for a long time because of dental anxieties, please call us today. More and more life-threatening illnesses are being linked to the presence of dental diseases. You'll be glad you called, and we'll be glad to take care of you. We'll do our very best to make your dental visits as anxiety- and pain-free as possible.