Many people, especially adults 18 years and older, don't pursue the straighter smile they desire because they think braces take two to three years and only use metal brackets and wires. Guess what? They don't have to!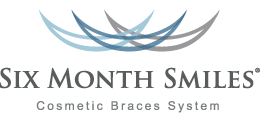 Dr. Kim is pleased to provide Six Month Smiles® braces that use clear or tooth-colored brackets and small, space-age wires to straighten your teeth in less time.
Six Month Smiles braces use low force to move teeth with minimal or no loss of tooth structure. By focusing on moving the teeth that show when you smile without making significant changes to your bite, Dr. Kim can safely and relatively comfortably correct your crooked or spaced teeth in about six months.

BeforeAfter
Studies have shown that a healthy and attractive smile can boost your self-confidence, improve your personal and professional life, and help you make better first impressions on others. Straight teeth can also make it easier for you to keep your teeth clean, healthy, and looking fabulous!
Advantages to Six Month Smiles Braces:
LOOK – The tooth-colored brackets and small, nickel titanium wires used for Six Month Smiles braces are much less noticeable than regular braces. People will hardly notice that you're wearing braces. What they will notice is your straight teeth afterwards!
FEEL – As with any orthodontic treatment, minor discomfort can be experienced. Because such low forces are used during Six Month Smiles braces treatment, we are able to keep this discomfort to a minimum, to safely and effectively transform your
COST – Even though 6 Month Braces offer the advanced benefit of being accelerated, they are usually less expensive than regular braces. We also offer flexible financing, so you can get the smile of your dreams on a plan that fits your budget.
Please call us today to schedule your orthodontic consultation!
Contact Us